A hard truth. Had it not been for an Arizona vacation and multiple trips to Pittsburgh to visit/pick up my son, there might not even be a top ten list this year. Unfortunately, the ongoing personal trend of de-prioritizing shooting for my own enjoyment continued in 2022. My cameras still get plenty of work on the basketball courts of Lancaster County capturing my other son's exploits, but beyond the few new locales I visited this year, I didn't do a ton of additional purposeful shooting.
While I do like the photos I've put forth for 2022, I can't honestly say they're my strongest or most diverse set of annual picks. I know, I know, I'm doing a bang-up job of convincing you to read the rest of this post. I get it, I'm not the greatest personal salesman. That kind of self-promotion generally doesn't interest me.

What does interest me is the growth process of creatives. I know in my heart that all progress isn't made in a linear fashion. There's bound to be natural pauses and dips along the way. Where I personally struggle are the periods when I feel like I'm consistently moving backwards. When I look back at some of my images from five or six years ago and compare them to photos I've taken more recently, 2022 really feels like that kind of year, a step backward.
In a year without improvement, the doubts start to creep in, "Have I already captured my best work? Am I literally a worse photographer than I used to be?" It can be hard to shut out those thoughts without concrete evidence to the contrary.
All I can do is once again recommit myself to the process of becoming a better photographer in the year ahead and hope that the images follow.
Allspark Leads | Pittsburgh, PA | ƒ/7.1 46mm 1/2500 ISO 500 | 12.31.21
While I was wandering around downtown Pittsburgh killing time waiting for my oldest son's flight to land (The University of Pitt Marching Band was returning from the Peach Bowl,) I was focusing on the patterns and lines of the surrounding buildings. I came away with numerous shots I enjoyed, but this one was my favorite because of its slight color shifts and hard contrasting angles.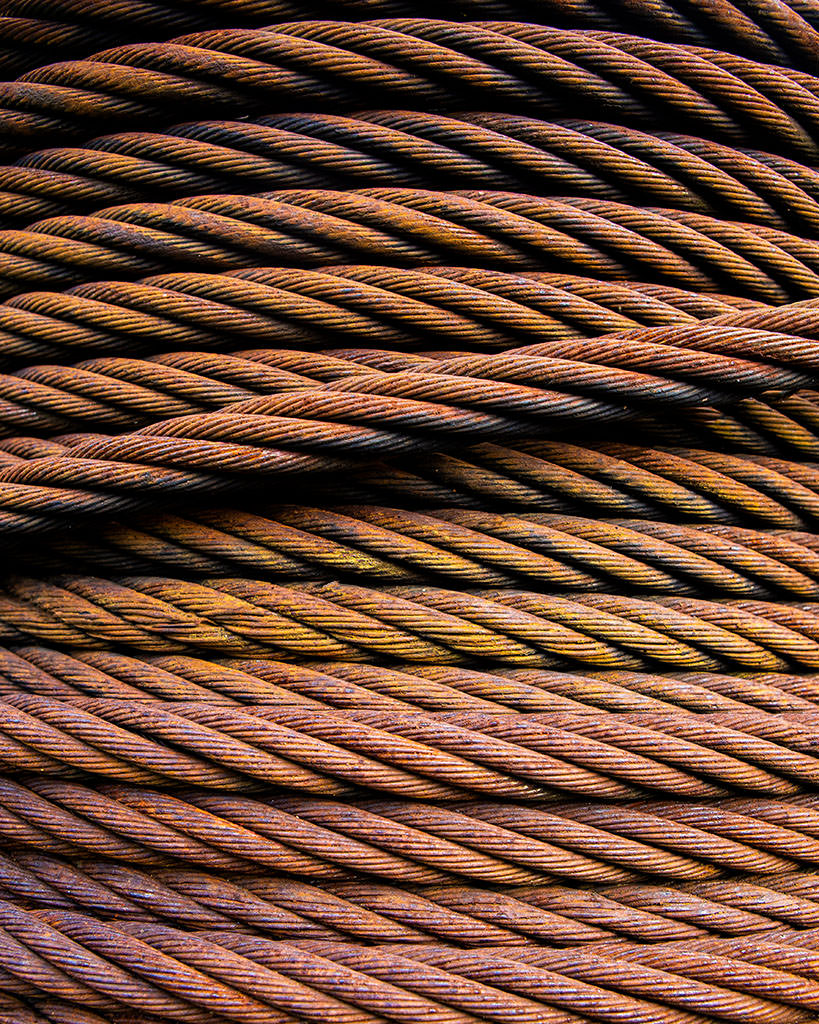 Wound | Lititz, PA | ƒ/5.6 25mm 1/160 ISO 500 | 7.9.22
I make a point to visit the local heavy machinery yard near my home at least once every couple of years. While the contents of the yard don't change substantially, the march of time and advancing decay does force familiar subjects to take on new looks. This spool of heavy cable stood out on this year's visit for its hard shadows which gave it a nice sense of depth. Additionally, the singular cable cutting across the center broke up the pattern in a pleasing way.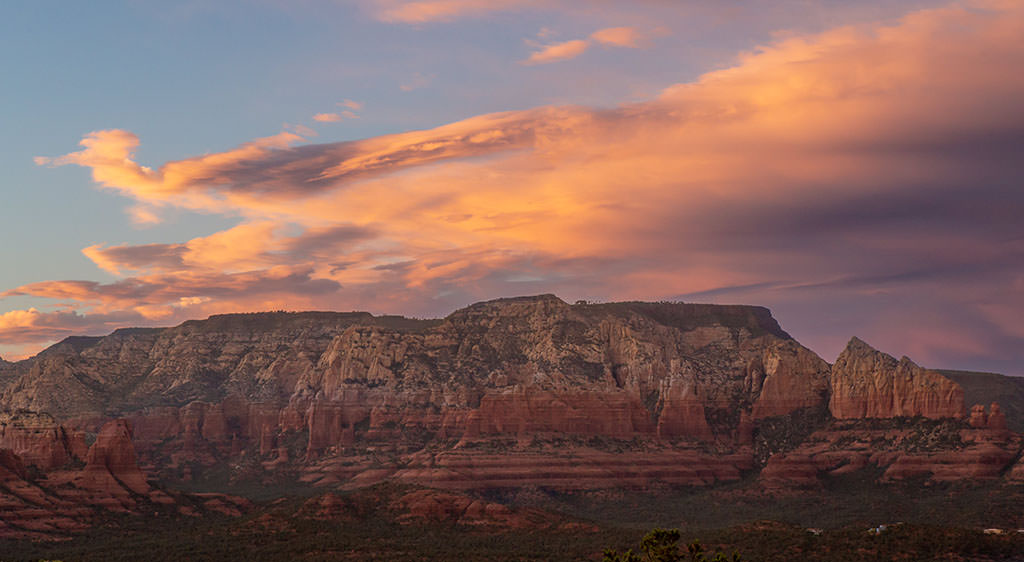 Fallin' all around us | Sedona, AZ | ƒ/9.0 70mm 1/80 ISO 800 | 6.17.22
On a family visit to Sedona, AZ our first official stop was to see the "red rocks" sunset at the Sedona Airport overlook. During our week long stay I wasn't always able to get out at ideal times for landscape photography, but this first twilight vista was a great introduction to the beauty that was in store for us.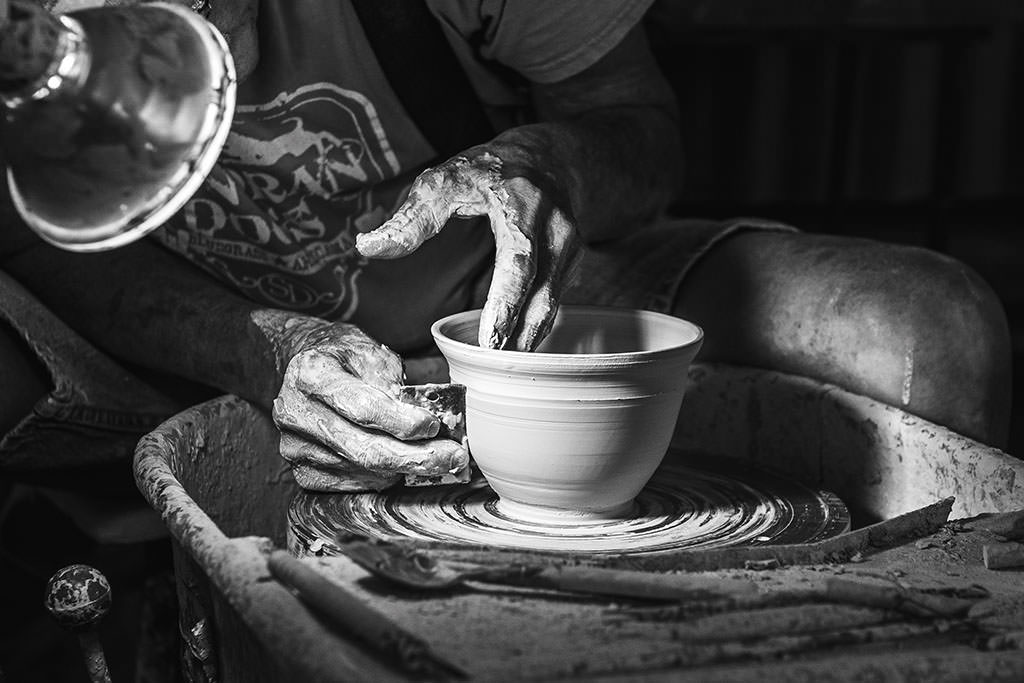 Wheels keep turning | Jerome, AZ | ƒ/3.5 70mm 1/1600 ISO 800 | 6.20.22
A potter forms a bowl in his Jerome, AZ studio. I think the conversion to black and white helped pull focus to the artist's skilled and weathered hands.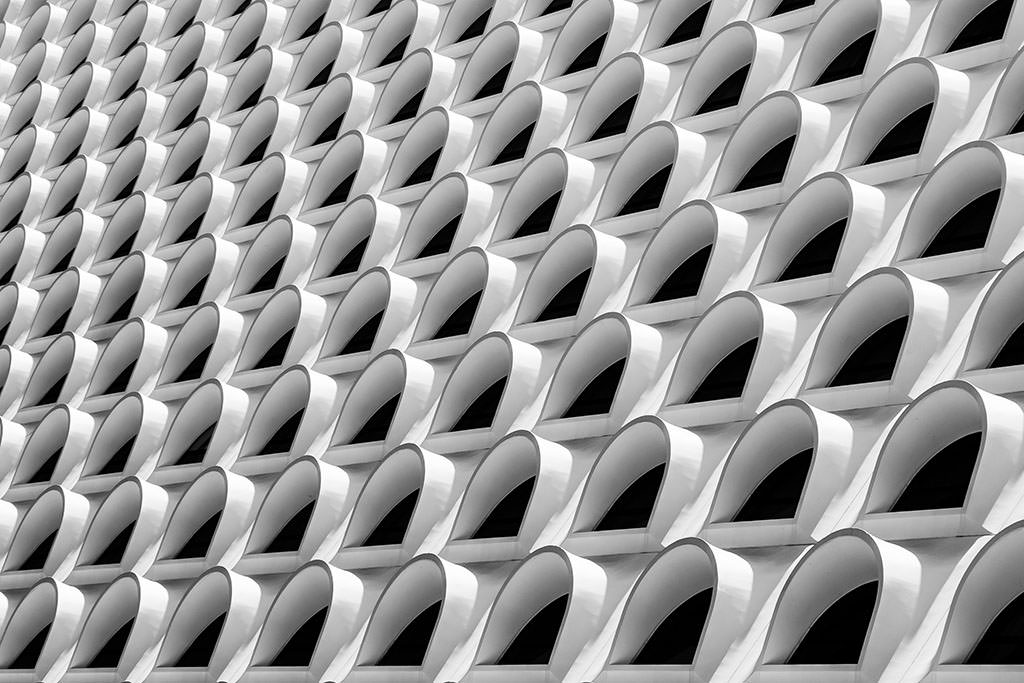 Some infinities are bigger than other infinities | Phoenix, AZ | ƒ/8.0 70mm 1/400 ISO 100 | 6.17.22
A unique pattern of windows caught my eye on a brief visit to downtown Phoenix, AZ. Although this shot was converted to black and white to help illustrate the hard contrasts and repetition of architectural details, the original photo was already pretty monochromatic.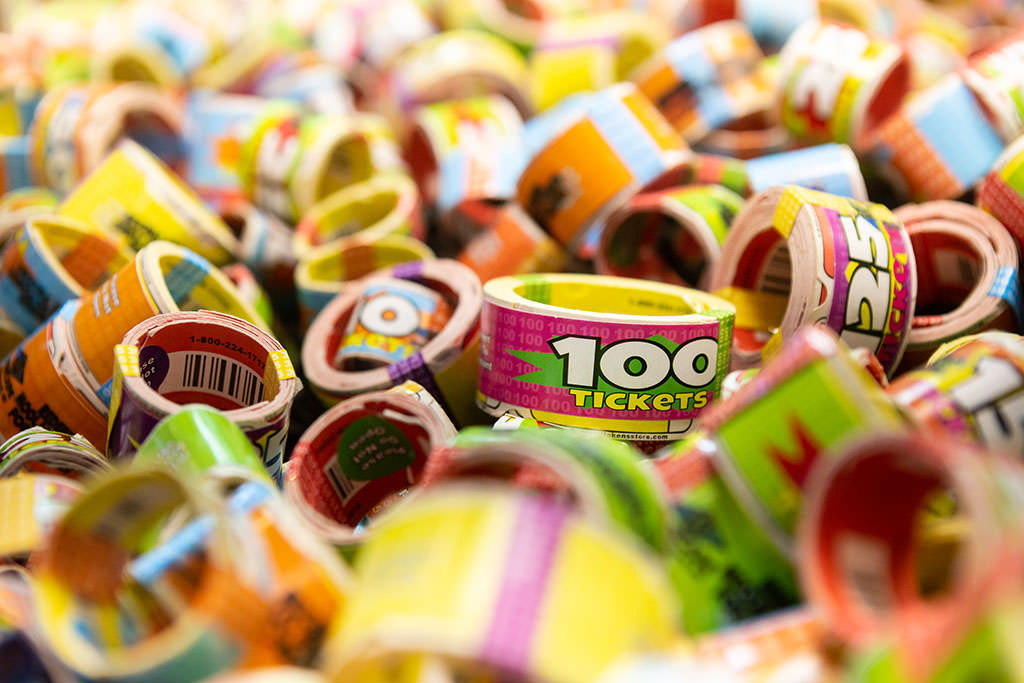 100 Tickets | Wildwood, NJ | ƒ/3.5 55mm 1/320 ISO 1600 | 7.27.22
A couple of my guilty photographic pleasures are on display in this shot from the Wildwood Boardwalk; "poppy colors" and "piles of things." I've probably pressed the glass element of my lens against the case of a claw machine more times than I care to admit over the years.
Left Bright Right | Lititz, PA | ƒ/4.0 43mm 1/160 ISO 160 | 8.17.22
I like how the plane of focus hits both the speedometer and the interior of the steering wheel, giving this wide aperture shot from the 2022 Lititz Car Cruise a little more depth. The deep colors paired with the gleaming chrome also evoke an air of style and power this classic muscle car was throwing off.
Cigarettes no more | Las Vegas, NV | ƒ/3.5 58mm 1/200 ISO 800 | 6.23.22
This repurposed vending machine from a Las Vegas casino lobby dispenses mini pieces of artwork instead of cigarettes. I liked how this new functionality mirrors the city's decades long attempt to re-brand itself as a destination that's more than just a terminus for degenerate black jack gamblers burning through packs of Marlboros in smoke filled rooms at 2 in the morning.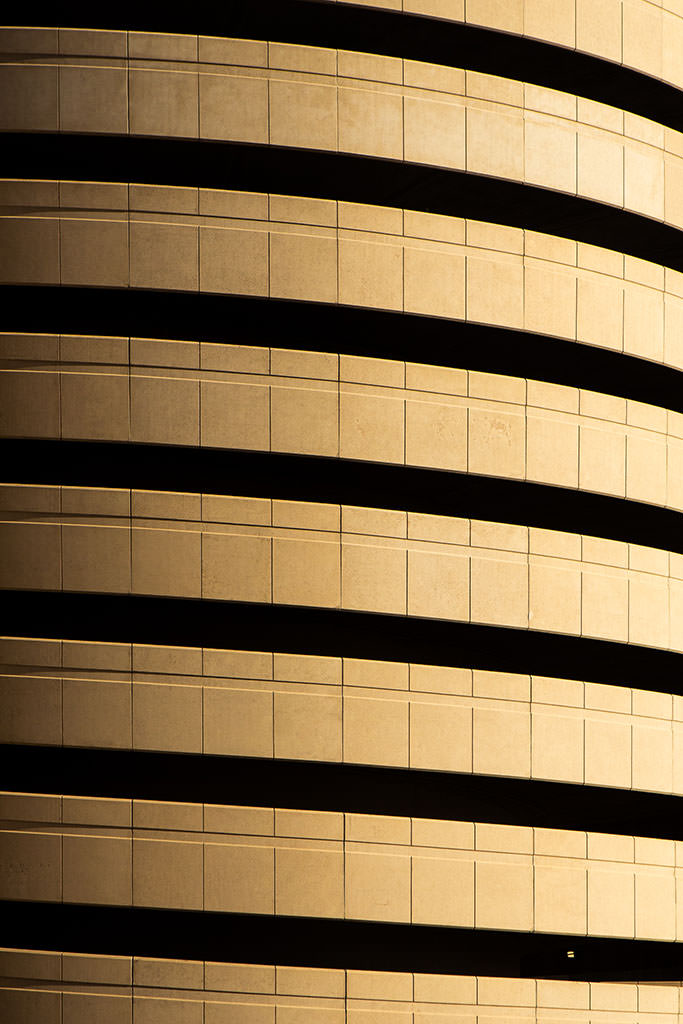 Where to? | Phoenix, AZ | ƒ/10.0 70mm 1/320 ISO 320 | 6.24.22
While waiting for a delayed flight at Sky Harbor International Airport in Phoenix, this parking garage provided me the opportunity to capture its subtle curves and appropriately southwestern color gradient. This creative exercise gave me a momentary respite from thinking about how we now needed to catch a connecting flight in Denver to make our way home.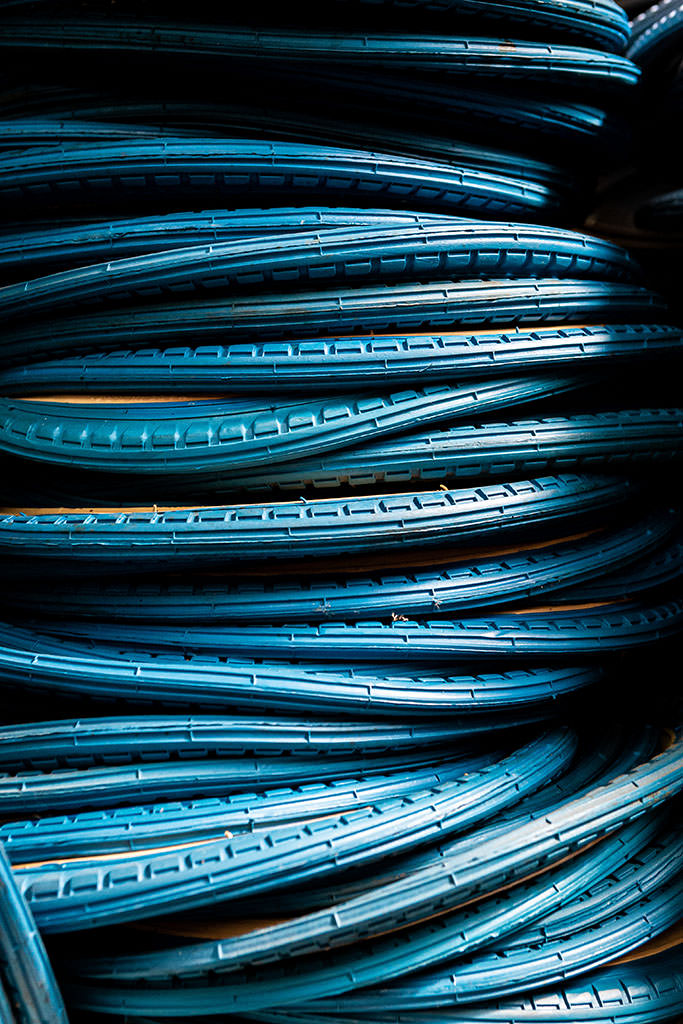 The Blue Tire Collective | Pittsburgh, PA | ƒ/5.0 48mm 1/320 ISO 6400 | 9.15.22
I'm a pretty simple man for the most part. If you show me a pile of tires, I'm probably going to take a picture of it. These ones from the Bicycle Heaven Museum in Pittsburgh also just happened to be blue. What more could a pile photographer ask for?
---
---
You might also like