When Shani and I were closing on our current home more than a decade ago, our realtor, Bill, came for a visit. He needed us to sign a small fraction of the endless paperwork that always seems to accompany the home-buying process. We were temporarily living with my in-laws who had expanded their home decades prior. I mention this because the "new" main addition as you enter their home was previously a garage that had been converted into a sitting room. After a short walk down a hallway, this addition opened up into the old main living area with two stories of headroom and plenty of tall windows. Through the years, I had gotten used to the passage from the new room to the spacious main living area, but when Bill walked through the house he used an expression to describe the surprising transition that's always stuck with me. He said, "This place really rambles, doesn't it?"
I was very much reminded of that phrase while visiting Bicycle Heaven this past weekend in Pittsburgh. Just when you thought you had investigated every nook and cranny of the museum, you walked through a doorway to discover a larger and even more intriguing room to explore on the other side. It really did ramble.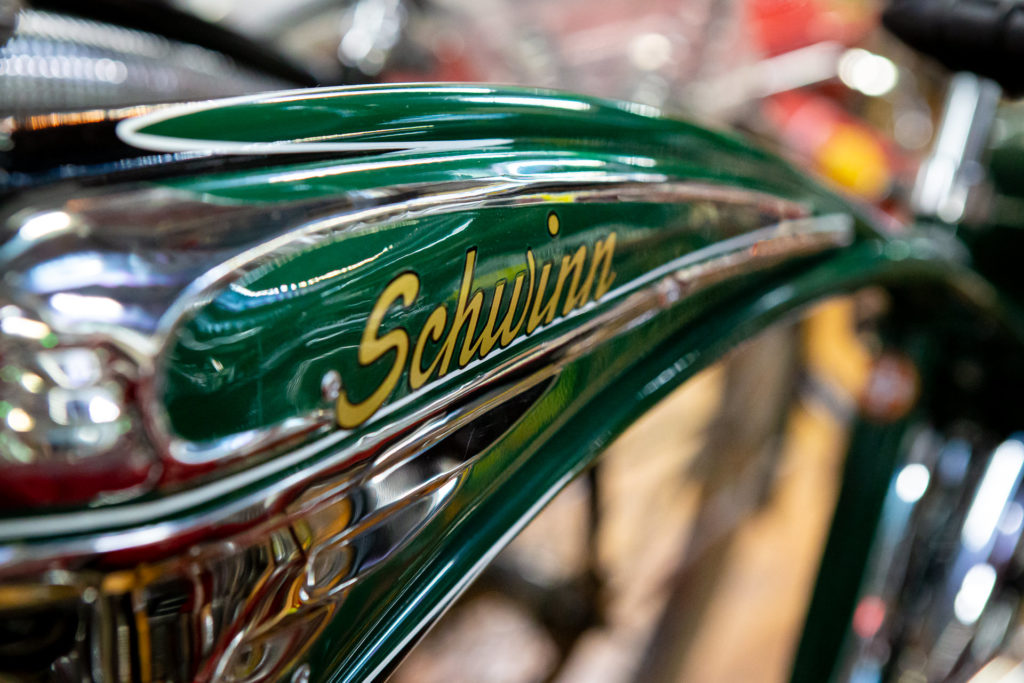 Shani and I were visiting Pittsburgh primarily to see our son Noah and watch him perform with the Pitt Marching Band at his school's football game against Clemson the following day. We were going to take him out to dinner that night, but needed to kill some time while he was at band practice. While searching for activity options, I remembered a photo I had seen on my friend John's Instagram account about some sort of bicycle museum in Pittsburgh. It turned out to be only a few miles away from Pitt's Oakland campus and admission was free, so we decided to give it a try.
When we walked in the door, I could tell the space was a little rough around the edges but had the earnest appeal of something born out of a true labor of love. Exactly my kind of place. There were literally thousands of bikes, bicycle parts, movie props, and bicycle ephemera on display. Motion sensors cornily queued music and illuminated strip lights as we walked from room to room, and there was even a glow-in-the-dark gear room. Often, we would round a corner and weird non-bicycle pop-culture nostalgia artifacts would appear for no apparent reason (like Fonzie's preferred pinball machine!) That kind of randomness made me love this place even more.
On his Instagram post, my friend mentioned that he was pretty sure he could find every childhood bike he ever owned here if he looked hard enough, and I can't disagree. While there is a surplus of amazing two-wheelers on display, there isn't a lot of rhyme or reason to the layout of Bicycle Heaven. Thankfully, the beautiful chaos allows you the time to hunt for little surprises in each area. You can find Pee Wee Herman's signature bike from his first movie or that green Schwinn with the banana seat and the 5-ball shifter you were so envious of back in the 70's.
Beyond sentimental favorites, there are some truly beautiful vintage bikes on display that are genuine works of art. With their colorful frames, retro curves, and striking paint jobs, each one has its own distinctive style. After asking about a particularly handsome model, one of the staff members even let me try and lift it. It was surprisingly heavy, but I guess most things made primarily out of thick steel and chrome tend to be.
Unfortunately, Bicycle Heaven is the type of place that's rapidly disappearing from the American travel landscape. A true roadside attraction born out of the proprietor's adoration of the subject matter. A destination that hasn't corporatized and sanitized the past at the behest of focus groups and mass appeal. Bicycle Heaven is just pure nostalgia presented on its own merits. I would argue that attribute alone is worth a visit, even if you never learned how to ride a bike.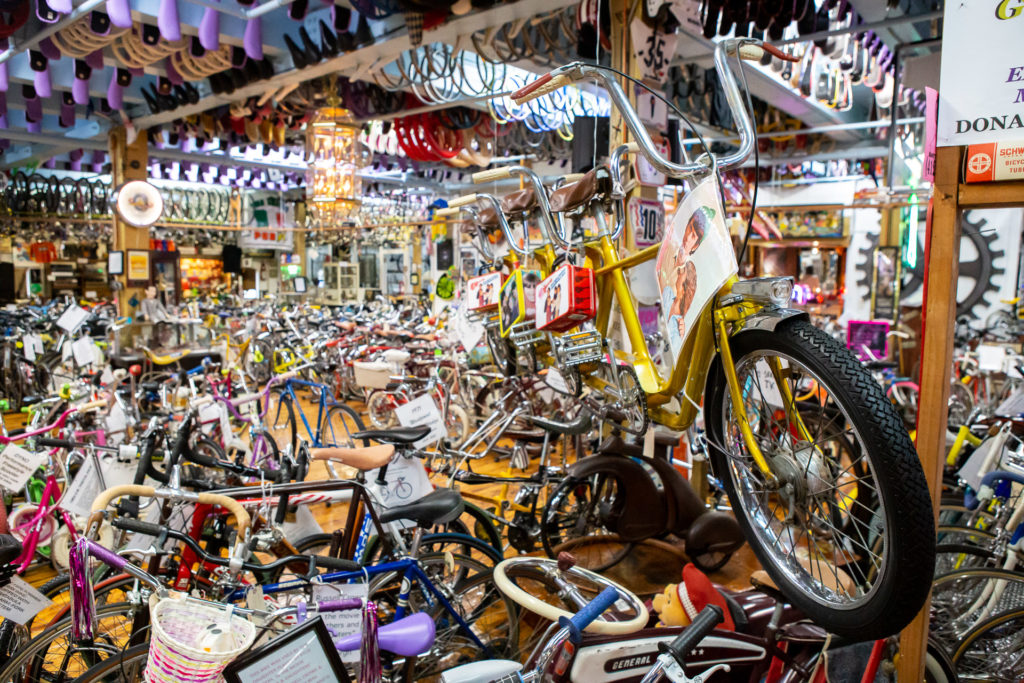 Photo Gallery
---
---
You might also like
---